Last Saturday we said goodbye to, in my opinion, the best radio colour-commentary man the Vancouver Canucks has ever had. From his infectious laugh to his blunt analysis of the home team's performance whenever they didn't meet expectations, it was hard not to love this guy. Just ask Todd Bertuzzi.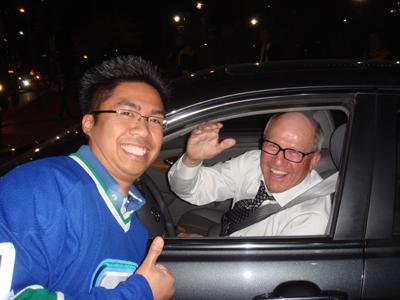 Melissa and I started watching this game on TV, but got in the car to go home just to listen to Tommy's last broadcast and final sign-off on the radio. Hard to believe that we won't get to hear his voice on the radio any more, calling Canucks games at least. I'm sure he'll be back as a guest interview every now and then, but Saturday October 9th, 2010 was the last time he'd be calling a Canucks game. It would've been icing on the cake had the Canucks won the game too.
I don't know what the chances are that Tommy will actually see this, but I just wanted to thank the guy for helping me get my Canucks fix when I was out driving somewhere, or at university working on projects that took all day and deprived me of going home to catch the game on TV. Listening to Tom and Shorty call the games on the radio was actually almost as enjoyable as watching the games on the tube.
The day I was lucky enough to meet him and shake his hand as he was driving out of the GM Place parking lot was just as exciting for me as meeting one of the players, honestly. I loved how he was so down to earth and actually stopped his car and rolled down his window when he saw that we recognized who he was. Not only was he willing to take a picture with me, but he also took a moment to thank us for actually being fans of his, considering the fact that some people don't know what he actually looks like being a radio personality.
Anyways, here's Tommy's last sign-off. Thanks to the TEAM1040 for making this available online!
I know how much you wanted to be in that booth when the Nucks finally win their first Stanley Cup, hopefully you get to witness it before the big guy upstairs says your time is up. But I hope you live life to the fullest, enjoy your retirement and all the little things that happen along the way.
Thanks for the memories Tom Larscheid. Shorty always let us see what we were missing; but it was you Tommy, that made us feel like we were right there in that arena watching with you.
"Good night Mrs. Calabash! — where ever you are!"